Cliff Joseph – Community Development Manager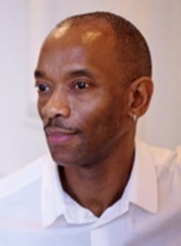 Hello, my name is Cliff, and I am excited to let you know about my new role at Voluntary Action Islington as the Local Wellbeing Networks Community Development Manager.
In this role I will take forward the successes from the first year of work and develop the longer-term delivery plan that focuses on forming self-organising and self-sustaining networks in all three Locality Areas.
As the Community Development Manager for the Local Wellbeing Networks I will:
Coordinate the Local Wellbeing Networks which take place on a locality level in the form of in-person meetings. Information linked to previous meetings can be found here.
Be the collective voice for all three Local Wellbeing Networks and be recognised as a means for Islington Council and others concerned with health and wellbeing commissioning to engage in meaningful dialogue
Develop a Community of Practice (CoP), to ensure connectedness across the three Locality areas to exchange lessons learnt, effective practice, and progress updates
Facilitate closer working arrangements between local voluntary, community and faith sector (VCFS) organisations and Islington Council.
Work closely with VCFS organisations and residents to create solutions to local issues, this includes supporting resident campaigns and social action activities.
Develop further the successful Community Organisers and Change Makers Programme – and for them to be an integral role in network development.
Please contact me at:
07354 460 061 cliff.joseph@vai.org.uk
Helpful information
Information on Fairer Together