Managing Volunteers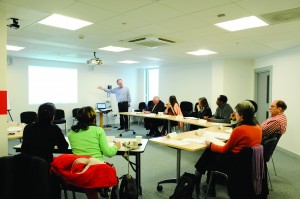 Managing volunteers can be a hugely rewarding experience and voluntary staff can bring many benefits to your organisation
However, it is very important to understand the differences between volunteers and other members of staff and good management practice is vital in ensuring a positive experience for both you and your volunteers.
Voluntary Action Islington staff are experts on all aspects of volunteering and we are always on hand to help guide you on best practice and how to effectively manage volunteers in your organisation.
Are you a volunteer-involving organisation? Click here to register with the Volunteer Centre
Want to advertise a new volunteer role? Click here if you are already registered 
Do you need to develop a volunteer policy, role descriptions, DBS checks or induction policy? Click here to access useful documents to assist you.
Covid-19
Check out the volunteer centre covid-19 support page for organisations working with volunteers during the coronavirus crisis. You will find relevant and updated information around safety, safeguarding, etc.
Please check the updated guidance (June 2022) on how to reduce the spread of respiratory infections, including COVID-19, in the workplace from GOV.UK.
Volunteering Recognition Scheme:
ValueYou is a volunteer recognition scheme that rewards volunteer for their hard work by providing them with a discount card. It is available to volunteers who have done 100 hours or more of volunteering for a charity, hospital or other community group in the past 12 months in the borough of Islington. It's a free and simple way to recognise and thank your volunteers. The discount card offers 10% or more off at  independent businesses and there are hundreds of them taking part across London. Each volunteer also gets to choose one gift voucher: it could be a breakfast, lunch, dry cleaning, a beauty procedure or a certain amount (e.g. £10) to spend in the business. See a local guide of businesses in Camden & Islington here.
To apply for the card, volunteers can fill in the online application form for Islington.
Paper applications forms also available here.
Islington – volunteers can also opt to receive a 100 hour Volunteering Certificate issued by VAI.
For more information on the scheme, you can check the volunteer managers' guide, visit the  ValueYou website or send an email to coordinator@valueyou.org.
For individual enquiries and advice about anything relating to volunteers and volunteering please contact Marta Aparicio:
T:020 7832 5800
E: mailto:marta.aparicio@vai.org.uk
Follow Voluntary Center Islington