Get started – Volunteering in Islington
Start your volunteering journey today!
Search online for volunteering roles Login or register
There are many reasons why people volunteer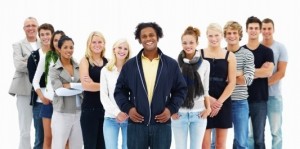 It might be to meet people, to gain new skills and experiences, to have fun, to help out in your local community or to gain experience that could help you to obtain paid work.
Voluntary Action Islington's Volunteer Centre team provide face to face advice as to the volunteering roles available and how to access them.
We can help people with barriers to volunteering find the right role for them and support them with the application and recruitment process.
All shapes and sizes
Volunteering could take just a few hours of your time or a number of days – depending on how much you can commit and the demands of the volunteering role.
And there's a vast number of roles too…
Different types of volunteering
Volunteering in the community with local voluntary organisations
Volunteering in the community offers wide ranging volunteering opportunities, for example:
• Administration
• IT
• Management and Finance
• Trusteeship
• Advice and Information Giving
• Counselling
• Listening and Befriending
• Mentoring
• Coaching
• Event organising
• Fundraising
• Marketing and Campaigning
• the list is almost inexhaustible!
Microvolunteering
Want to volunteer but can only spare an hour or two – quite possibly only in the evenings or weekends, or generally antisocial hours? Some volunteering opportunities are ideal for microvolunteering – for example updating a website, tweeting or keeping a Facebook presence up to date.
Find out more about volunteering with voluntary organisations below:
Public Sector Volunteering
NHS
The NHS also offers a wide variety of volunteering opportunities, see NHS choices for details of the range of volunteering opportunities within the NHS.
Contacting your local NHS trust directly is a good way of finding out about volunteering opportunities in your area. Either go to VAI's online database or NHS volunteering or the Whittington website.
Police
The local police has volunteering opportunities as special constable or administrative roles, and many more. For more details go to their website.
Magistrates
Magistrates are volunteers who hear cases in courts in their community. They can hear cases in the criminal court, the family court, or both.
Each case is usually heard by 3 magistrates, including a magistrate who is trained to act as a chairperson.
A legal adviser in the court gives advice on the law and makes sure the magistrates follow the right procedures.
To find out more go to https://www.gov.uk/become-magistrate/
So you want to volunteer in Islington?
To find out more and browse volunteering opportunities online:
Search online for volunteering roles Login or register
Whatever the reason, the Volunteering Team at Voluntary Action Islington are here to help you. You just need to live, work or study in Islington.
To find out more about volunteering in Islington contact the Volunteer Centre at Voluntary Action Islington
T: 020 7832 5826
Find out more about volunteering:
Volunteering England
Greater London volunteering
Do-It: The easy way to volunteer
Time-banking
Follow Voluntary Center Islington