Volunteers of the Year 2021
Nominations for the Islington Volunteer of the Year Awards 2022 are now closed.
If you want to attend the ceremony on 2nd November, please book your seat here!

The awards sponsored by DoubleTree by Hilton Angel Kings Cross and announced by the HM Mayor of Islington, Cllr Troy Gallagher, at an online celebration on the 15th of December, 6-7pm.
Older Volunteer of the Year 60+:
Winner: Anita Maiagmiot, Islington Chinese Association
Anita volunteered for the Islington Chinese Association (ICA) which is a London based Chinese charity promoting social cohesion within the Borough of Islington, across the UK and beyond.
Anita has always been and still remains a dedicated, hands-on volunteer helping the seven-day breakfast service whether snow, rain or shine, for the homeless and deprived, facilitated by St Gabriel's Catholic Church. In addition to this Anita also serves the ICA four-day Chinese pensioners lunch club despite not speaking or understanding any word of Chinese
Anita provides her time, positive energy and self-esteem which demonstrates her appreciation of living in a multi-cultural community that allows her to go beyond borders, regardless of who she serves. Staff, service users and other volunteers are constantly encouraged by her outgoing personality and dedication. Serving the less privileged section of the community is never easy or straight forward especially when tradition, heritage and culture are dissimilar but Anita never shies away from any tasks, instead, always fulfils it with a positive attitude and smile which provides that role model and motivation for other volunteers.
Anita brings enormous added value to the two organisations. A selfless, inspirational and committed volunteer who is a generous person with ethical values.
Commended: Glenda Daniels, Hanley Crouch Community Association
Glenda has been running as series of well-being events for the elderly residents for over 4 years in the community and for some, it is the only event they have to look forward during the month. During lockdown she provided a befriending service (with the help of 3-4 volunteers) to some of our most vulnerable and anxious residents and stayed in contact and supported them by getting their food and phoning them on a weekly or daily basis.
Commended: Steve Henry, Light Project Pro International
Steve has been volunteering at Light Project Pro International for 11 years. He attends every Saturday morning, holiday schemes and at key events to cook their supplementary school children healthy and nutritious lunches. Steve's expertise and commitment to the young children, many of whom are the children of migrants and refugees and make them feel part of the community.
Highly Commended: Geraldine Pettersson, Healthwatch Islington
Geraldine has been a long-standing volunteer, throughout the pandemic she continued to support the project. She has undertaken desk-based research, compiling databases around community health services and mental health services, which have supported the running of the signposting service. Geraldine is a passionate and dedicated member of the volunteer team.
Volunteering Team of the Year:
Winner: The Arc Foodbank Volunteer Team, The Arc Centre
The ARC Foodbank has responded to an immediate and then ongoing need for emergency food support in our community, tripling its client base over the course of the last 18 months, and operates almost exclusively through volunteer engagement. The centre have a huge team of volunteers collecting, packing, sorting and delivering food – without their engagement and enthusiasm the food bank could not operate as it does.
As foodbank co-ordinator I cannot thank them all enough – the support of such a reliable, friendly and hard-working team is what makes my job possible. They respond to ever-changing circumstances with humour and enthusiasm and helped us continue a seamless service for clients throughout a recent premises move.
Our recent client evaluation survey found that 97% of clients found our volunteers to be helpful and friendly, with quotes like this, "That you try to provide healthy food not just canned goods, rice and pasta like other foodbanks. The staff are friendly & try to be supportive. It's great that some of the food is grown at the Arc centre. It's also great that you disseminate information with regards to support". A huge round of applause please to all the volunteers making the ARC Foodbank happen!
Commended: Angel Shed Volunteer Team, Angel Shed Theatre Company
For 17 years the Angel Shed is an inclusive performing arts charity for children and young people of all abilities and backgrounds to performing arts. Reaching out to those with disabilities, mental health issues, special education needs, emotional and behavioural needs, LGBTQ+ people, young carers and those from communities experiencing racism and racial inequality.
Commended: Food Hub Team of Volunteers, Highbury Vale Blackstock Trust (Elizabeth House Community Centre)
2020 and 2021 have been the years of volunteers at Elizabeth House Community Centre, with over 100 volunteers giving their time to support our newly launched Food Hub providing food to over 700 residents in 20 months. Our core community services could not have been delivered without our incredible team of local volunteers.
Highly Commended: Camden & Islington Response Volunteer Service, Camden & Islington NHS Foundation Trust
The project and the volunteers have successfully contributed to reducing pressure on our hospital division colleagues. 'Response Volunteers' have been picking up non-clinical tasks for staff, such as; shop runs for patients and staff, collecting and escorting visitors, the collection and delivery of swabs and supporting patient feedback collection. This has saved staff time, helped to reduce their stress levels and freed up their time to concentrate on clinical tasks and patient care.
Volunteer of the Year 26-60: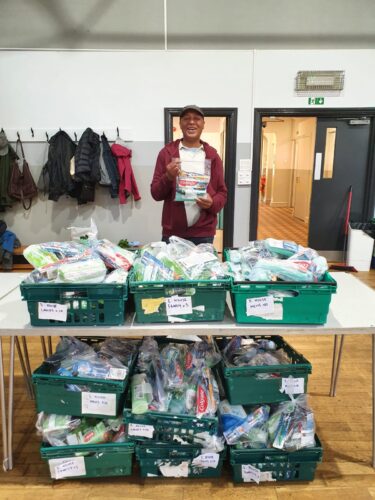 Winner: Ian Spencer, Octopus Communities Network
Ian has been recognized by several centres within the Octopus Community Network. Every day, Ian goes from one project to another, spreading his contagious smile, and making a huge difference in his community.
He has been community Gardener for Octopus at the community plant nursery on Tufnell park estate since it opened in 2018.
The Holloway Neighbourhood Group at the Old fire station shared that Ian for some years has been the only one out there taming the sprouting fruit trees, clearing the weeds and basically slogging away at all the physical jobs that keep our garden attractive and safe for others to enjoy.
At The Old Fire Station Community Centre, Ian volunteers as a gardener bringing his enthusiasm and commitment to their gardens. At OFS they often have elderly people who want to join the gardening group and Ian is patient, kind and includes them in all aspects. Without Ian, they would not have the beautiful garden we have now.
Ian volunteers at Elizabeth House Food Hub. Always the first one to arrive every Tuesday, Ian helps set up the food shop, packs and delivers food boxes, supports residents and make them feel welcome.
Ian has also been volunteering with our Greening Highbury Quadrant project and, again, has made a big difference there; bringing his wealth of experience in gardening to strengthen their team of resident-volunteers who collectively have made it possible to turn inaccessible green spaces into beautiful meadows, orchards and wildlife areas on a local housing estate.
Ian also volunteers at Centre 404 and with other gardens across the borough…
Commended: Engin Kul, Age UK Islington
Engin joined Age UK Islington during the peak of the 2020 lockdown, after he was made redundant as manager of a main organisation. He wanted to make a difference, and that he did, by providing information, advice and support for elderly, disabled, refugees and homeless. Through his compassion, selflessness and dedication to the vulnerable in our community. He helped residents by applying for grants which included cookers for households and beds for children sleeping on the floor.
Commended: Ipek Gencel Sezgin, Imece Women's Centre
Ipek was involved in outreach programmes in colleges informing and creating awareness around violence against women and girls issues to young girls aged 16-to-18. She uses her PHD-level of education in politics and gender studies to empower BAMER women and girls to live a life without abuse and to support them achieving their goals.
Highly Commended: Keith Pringle, Healthwatch Islington
Keith joined us as a volunteer Digital Champion in the high of the 2020 pandemic he provided support via Healthwatch Islington phone and video chat and after lockdown face to face. In this role he has supported 17 learners over 32 sessions to learn new skills including, setting up a Facebook page for a small business, using email and attaching documents to help with probate and making free calls abroad to stay in touch with family. Not only has he helped our community but has provided support, training and implementations to the organisation.
Highly Commended: Yonas Mebrate, Together Productions
Yonas has volunteered tirelessly as a founder and committee member of the Sing for Freedom Choir since 2016, which brings together refugees and asylum seekers who are survivors of torture with Londoners from Islington and beyond who join to sing in solidarity with them. Yonas, himself a torture survivor supports many 'Freedom from Torture' initiatives which raise awareness of the plight of refugees and asylum seekers in the UK.
Pat Haynes Memorial Trustee of the Year:
Winner: Adrian Brown, The Elfrida Society
Adrian has been a Trustee since 2016 and supporter of the Elfrida Society for over 20 years. During this time, he has played different crucial roles as a volunteer and a paid group member of the Power & Control Group, representing the voice and needs of the Learning Disabilities community and fighting for their rights. Throughout his life Adrian has been a passionate and dedicated champion for the Learning Disabilities community and he is their representative at different forums including the Islington Learning Disabilities Partnership Board and Sub-groups. Adrian not only has personal experience as a person with a learning disability, physical disabilities, and long-term conditions, but also as a partner of someone with learning disabilities and long-term health conditions and as parent and carer of someone with autism. Despite of adversity and the difficult times faced during the pandemic, Adrian hasn't let it stop him from fighting for equal rights and justice. Adrian's passion tenacity and determination is admirable, and we are very grateful for his invaluable contribution to the Elfrida Society as a Trustee, a staff member and as a community champion, supporting our vision to create a more equal and fairer world for people with learning disabilities and for those with disabilities and health vulnerabilities.
Highly Commended: Ritchie Philip, Eagle Recovery Project
Ritchie, has been a member of the organisation for 6 years. He has taken the lead on Safeguarding and Complaints, filled the Secretary role and is currently Chair of the management committee. In 2020 through the pandemic Ritchie shopped and delivered some 200 food parcels for Eagle Recovery Project, member vulnerable adults service users whilst in lockdown.
Young Volunteer of the Year 16-25:
Winner: Aleksandra Tihomirova, SoapBox Youth Centre
Aleksandra joined at the start of the pandemic, when she began attending SoapBox Youth Centres virtual offer, SoapBox Online and, in particular, their young women's project, No Ceilings.
As we moved through the never-ending lockdowns and restrictions, Aleksandra showed her desire to support the Soapbox youth centre's and quickly became a leader.
And, with that in mind, SoapBox offered her the chance to become a volunteer who could help to develop their programmes and make sure that they met the needs of young people in Islington.
The first venture was to set up an Online Gallery, a virtual space for young people to explore their experiences of the pandemic and lockdown through art, design, poetry and other creative mediums. Not only did Aleksandra produce her own work, but she also helped to facilitate weekly sessions, where young people were able to choose themes to focus on and were supported to produce content that was disseminated online.
This Gallery initiative shifted focus as Covid continued and has now been repositioned as a piece of work delivered in partnership with Richard Cloudesley, Courtyard and Arts & Media Schools. Again Aleksandra was pivotal in setting this up, supporting staff to develop new relationships with each school that have continued in the 2021/ 22 academic year.
And her work has directly led to SoapBox receiving its first piece of funding to support live events. The success of the online version was pivotal in helping to secure this funding from the Old St Partnership, which will deliver 30 live events from February 2022.
Highly Commended: Daniella Leon, forum+
Daniella, joined forum+ in 2019. She supported the monthly LGBTQ+ Drop in at Union Chapel prior to lockdown. During lockdown in 2020 Daniella founded the online forum+ International Film Club. In 2021 she founded the first ever forum+ LGBTQ+ book club. She is highly regarded and a fantastic ambassador to forum+
Highly Commended: Elgi Gashi, Age UK Islington
Elgi is an undergraduate studying History, at UCL. He joined the Information and Advice Team at Age UK Islington in early 2021. In addition to his studying and volunteering for 2-3 days per week, he also provided support to a vulnerable member of his family. One particular case an elderly gentleman had a £5,000 bill from an energy supplier. He found the cause of the debt was due to a gas leak, and resolved the matter with the supplier.
To find out more about volunteering in Islington email the Volunteer Centre or visit the Volunteering Section on the website. Phone: 020 7832 5800
You can also drop in at 200A Pentonville Road on Tuesdays and Thursdays between 10am and 4pm.