Octopus Communities Volunteers
Octopus Communities is a network of multi-purpose community centres in Islington. Volunteers are a hugely important part of the network and they help at food hub projects, delivering food parcels, shopping for members, packing food parcels, collecting donations, befriending and much more.
They have interviewed 6 amazing volunteers from across the community centres in the network. Read on for their inspirational stories below.
Megan:
Megan volunteered for Elizabeth House (EH) community food hub for 8 weeks and must have cooked a total of 500 delicious meals, which have been distributed every week to vulnerable residents on our distribution list. Megan used food donated to the food hub and food purchased by EH to prepare balanced and healthy meals.  At the same time, Megan also co-ordinated the Caledonian and Barnsbury MA food bank which served 100's of residents each week with food parcel.
In a few weeks, when the Copenhagen Street food bank re-opens once the lockdown is lifted, Megan will be more involved there as the demand for her role increases, but said she will continue to support Elizabeth House. Previously, Megan also worked in the community kitchens in the Jungle in Calais, France, and then set up a workshop for refugee women back in Bath during her studies.
Megan started volunteering with the Caledonian and Barnsbury MA after being furloughed from her job. When she moved to Islington, she had always had an interest in supporting her local community. "When I got furloughed from my job, I had more time on my hand and wanted to give to the community. I liked being part of the Mutual Aid and got a lot from it. I met an army of people who wanted to volunteer and support residents at the food hub".
When asked Megan about her favourite part of her current role, she said "meeting people, the social aspect, keeping in touch with our diverse community and seeing what can be achieved by people giving their skills, time and with motivation. With solidarity, skills and motivation, we have built something".
Tips for people who would like to start volunteering from Megan was to "just do it, reframe how you think, not everything is about money. Time is your most valuable currency, not money. So how much you can spend and give your time is very important". She also stressed that people can learn so many new skills by working with others.
Wendy:
Wendy volunteers at the Street Project. "I was very fortunate that in 2006 Stress Project had diploma training in complementary therapies funded out of the European Social Fund.  I did Indian Head Massage, then went on to do Holistic Massage in 2007. The Thursday drop-in was started for us to do our case studies in, and after I passed my exams I continued doing Indian Head Massage at the drop-ins, as well as starting to do taster sessions at community events, festivals, schools (teachers and parents)".
Wendy loved being on stalls with SP flyers and being able to talk about the services as she felt passionate about what Stress Project offers. "One of the places I loved doing IHM was the Carers Hub, which preceded Islington  Carers. They offered monthly pamper sessions, with a few therapists from SP giving complementary therapies much needed and appreciated by the carers. Since then I love representing SP at Carers Week".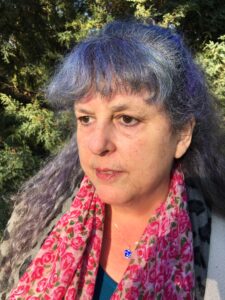 Wendy also volunteers for a women's network which supports and aims to empower women from different countries, backgrounds ethnicities –some marginalised, as well as a new sewing and garment making project which is part of the regeneration of Finsbury Park. With the latter Wendy says she is utilising her knowledge and expertise from having had a 30year career in the fashion industry. She is also a Time to Change champion, a national campaign aiming to destigmatise Mental Health problems and illness, as part of the Islington Hub.
Wendy applied for the Vodafone World of Difference programme in 2012 and won. "Once I got the Vodafone as part of being PR, Marketing and Communications Officer, I continued with activities in the community where I was involved in doing Indian Head massage as well as promoting services for the Stress Project to both potential service users and providers"'.
Wendy got into volunteering after caring for her mum for 13 years, and due to her long-term health conditions was no longer able to return to her career in the fashion industry. When was asked about her favourite part of her volunteering role, Wendy said,   "when an Indian head massage session relaxes and helps the client with stress and pain, meeting new people, talking with and listening to them and telling them about services at HNG and getting the SP profile raised to both residents and other providers. Learning new skills, doing training such at the excellent Mental First Aid training. Feeling a sense of having helped others as well as using my skills accrued through my previous working life and a sense of achievement.
Tips from Wendy for people thinking to start volunteering, is to look at areas they have interest in or try something new where they can learn. "Voluntary Action Islington is a good place to start where you can find out what is happening in the borough".  Wendy also mentioned the benefits of volunteering." Volunteering is enriching where you learn a lot from people, you get feel good factor from helping others and also learn new skills from volunteering. There are various volunteering opportunities at HNG, for example counselling and complementary therapists in training, reception, admin and gardening".Wendy highly recommend it!' it's a wonderful charity with lovely staff and volunteers are encouraged and helped to grow and develop. I was put forward for VAI's Volunteer of the Year award last year for in over 60's group and to my amazement won! It was lovely to have that recognition and appreciation".
Patrice:
Patrice volunteers with one of  Octopus community food hub at The Light Project to support local vulnerable residents, those in isolation and their families. " I set up the food bank at the Light project in 2009. It was initially set up to support volunteers and service users at the centre and since March 2020 when the community centre was closed, the food bank was supporting vulnerable residents affected by  Covid-19 crisis". Prior to her current role, Patrice has also been volunteer at the Light Project  smoking Cessation clinic where she supports people who want to stop smoking as well as supporting with the Saturday homework club.
Patrice got interested in doing volunteering when she was at  college after finding it difficult to get a job as employers were asking for people with work experience. " I have always volunteered even after getting a paid job since then as I want to support others in the community". When asked about her favourite part of volunteering, Patrice said that it was knowing that she has helped someone and supporting them when they needed help.
Tips for people thinking of starting to volunteer from Patrice includes; understanding that it will give them work experience, give them confidence, increase their communication skills and learn how to be open minded and more empathetic towards people facing challenges who might need your support. "Volunteering is a test for yourself of your endurance in dealing with difficult situations. It gives you confidence in believing yourself, build your contacts and be able to set up your own business".
Robin:
Robin volunteers at the Hilldrop Community Centre and her role has included helping out with the Thursday lunch club which is open to the local community, offering hot food, space for a chat, board game, film.  "Alongside 
our food coordinator, Laura, I help to come up with the weekly menu, which we create with the donations in mind. We've made some really delicious meals including Katsu curry, vegetable Pakora and Aubergine lasagne."
Robin has done some volunteering work in the past in a charity shop as well as a food charity called Food Cycle, which she particularly enjoyed. I find that food is a really great way of bringing people together and I've always enjoyed cooking not just for the process but also for the satisfaction of seeing people nourishing themselves and enjoying what they're eating while learning about different kinds of foods.
She started volunteering at Hildrop because she was hoping to start training to become a chef. "It has been a fantastic opportunity to work in a kitchen rolling out multiple meals in a certain time frame. I have even got my Level 2 Food Safety certificate while working at Hildrop".
Robin's favourite part of her role is coming up with weekly meal ideas to chopping veg and catching up with the other volunteers. " But I think the best part is seeing all the smiling faces of anticipation as we bring in pots of delicious smelling grub and then sitting down to savour it all with everyone who has come". Tips for people who would like to start volunteering from Robin: "If you are in a position to give your own time, just go for it! Volunteering is rewarding and enriching experience and your efforts will be very much valued. You'll end up getting as much out of it as those you are volunteering your time for."
Claire:
Claire has been volunteering at Hornsey Lane Estate Community Centre since the beginning of April. Irene, Laura, Val and Nia have been working tirelessly to create a Food Hub that provides the most vulnerable members of the community with food parcels during the pandemic and she is very grateful to be supporting them. What Claire thinks is so brilliant about HLECC is that not only are they sourcing the food and putting together parcels but also mobilising an amazing group of volunteers in cars, on bikes and on foot to deliver the food. They are currently putting together and delivering over 100 parcels a week for families and older and/or vulnerable people who are self-isolating. She has been also helping the team to oversee the list of people receiving food and checking that addresses are correct, ensuring that it's kept up to date with special requests/requirements, removing people who no longer need parcels and adding people who do. Claire has also worked on the logistics for how to get the deliveries done each week, depending on how many cars/bikes/feet they have delivering, and who takes which parcels where.
Claire was furloughed at the end of March, which meant she had a lot of time on her hands. She found that HLECC put out a request for volunteers through Mutual Aids and got in touch with them. Claire found that helping others has been the most helpful thing she done for herself, too, in terms of managing the extreme isolation and uncertainty of the pandemic lockdown period. She loved the community aspect of it, she mentioned how many brilliant people who she would never ave the chance to meet if it wasn't for the lockdown. Claire lived in  Stroud Green for six years and this is the first time she has ever felt like she live in a community, and doesn't want to let go of that when life goes back to "normal", whatever normal looks like in the future, because it feels so valuable to know there are caring people all around who are finding innovative ways to help others. It's astonishing and life-affirming, what is possible when a group of strangers work together.
There is a lady who Claire drops off to every week always looked forward to having  conversations with her (at a distance of 2m!!). At HLECC, they try to organise the food deliveries so that the same volunteers deliver to the same people each week where possible, so that a rapport can be built up. It is also very helpful as the volunteers who deliver, give them feedback if there are any special requests or if they are concerned about anyone they are delivering to, so that they can continue the chain of communication.
It doesn't require a huge commitment. If everyone does a little bit, so much can be achieved within our communities to make society better as a whole. Be persistent! She has heard a lot of people say that they cannot find any causes near them that need volunteers but Claire think if you reach out to enough different places, you will find a role for yourself – there are always going to be people who are eager to help, and there are always going to be causes which need volunteers – She think the tricky thing is often connecting them. Hopefully groups like the Mutual Aid WhatsApp groups for example will continue to exist after the lockdown period as she think they are a brilliant way of connecting people who want to help with the people who need help. Finally, be brave! Claire felt very anxious the first time she went to HLECC – was worried that she wouldn't be helpful or know what to do. As long as you are willing to help, you are useful, and you'll soon find your role within the organisation you are volunteering within.
Christina:
Christina is one of the volunteers in Mildmay Mutual Aid, working in partnership with the Mildmay Community Centre. Her role is within the group is to coordinate the deliveries of surplus food to vulnerable households and homeless people. While the Community Centre organises donations from the council and Felix Project, over the last two months she has brought on board 25 volunteers; prepped them; allocated delivery addresses; and coordinated the food sorting and delivery of produce and dry goods to up to 190 people each week on foot/bike/car.
Chrisitna said there are many things which she likes about her role, like many people she was both aware of the inequalities that were rising in the pandemic, and also feeling helpless around how to pitch in. So, when she joined her local Mutual Aid group, and when the opportunity came up to coordinate food deliveries, Christina was really happy to have a way to help. It seemed a good fit not only for her spreadsheeting skills, but also as a way to be a part of a team again and get to know her community better.
Her favourite part hands down is being with the team of volunteers every week. She cannot think of a way to say it that doesn't sound sappy, but the people she has met in her community – volunteers or those working at the community centre – are some of the nicest and most caring. Pulling together as a group (from 2 metres apart) to do something useful is incredibly rewarding for all of us, and she hear that back from the volunteers each week. Christina also been able to introduce her special needs brother, Cameron to the centre to volunteering there, and it means a lot to him to feel part of something with his community.
Why people should volunteer, Christina said, "Give it a go! It can usually be as much or as little time as works for you, and you'd be surprised at the social benefit. I'd also recommend the way it went for me, which was to get involved with something but get to know it for a little while, helping in smaller ways, while you get a lay of the land and learn from the experience of those who've been doing it for longer. Then, you can work out (if you want to) where a good niche is for how you can contribute more – where you're useful and passionate within a community of other volunteers. In the end, it's all about good people working well together."
Follow Voluntary Center Islington