VCS Public Health Key message 18 October 2022

18/10/2022
Please find attached this week's Covid Fact graphic to share with your community. The focus is on letting residents know that the Covid Autumn Booster is now available to all over 50s. It's important that those eligible for the booster to take up the offer to protect themselves and their loved ones from the serious effects of Covid.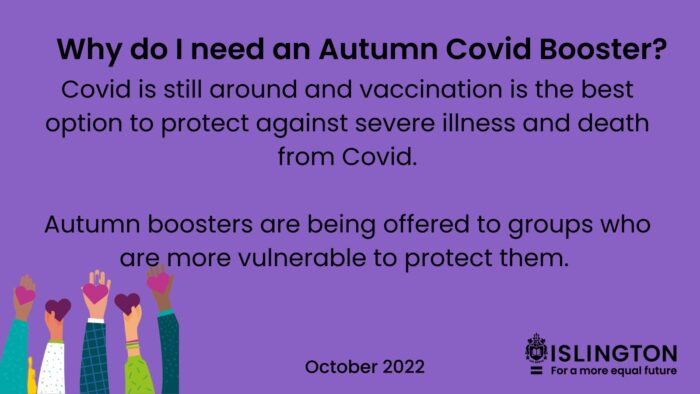 Key message:
Over-50s are now eligible for a Covid Autumn Booster. Book on the National Booking System or through a GP, or head to a walk-in site or a community pharmacy.
You will also be eligible for an Autumn Covid Booster this year if you are:
in a clinical risk group
in a health and social care role
pregnant
are a carer
Free Health Checks- 20 October:
Free Health Checks at Islington Town Hall this Thursday, 20 October. As part of Black History Month, Islington Council are offering free health checks for Black residents between 3pm – 6.30pm. A health kiosk and health practitioner will be available to help you check:
💙 Your BMI
💙 Blood pressure
💙 Heart Age and more!
No bookings, walk-in only. This service is free and 100% confidential.
There is a free event from 6pm – 7.30pm at the Town Hall – In Conversation with Healthcare Professionals, discussing the different and varied pathways to a career in healthcare. Come for a health check and stay for a fascinating event!
Upcoming Covid Vaccine pop ups and walk-ins:
Hornsey Central Vaccination Clinic, 151 Park Road, London, N8 8JD
Times and dates – open 7 days a week
Covid Booster doses for those aged 12 and over:
Monday to Friday, 8am – 2pm
Sundays, 8am – 7pm
Via bookingor walk-in
1st and 2nd vaccines for those aged 12 and over
Wednesdays only, 3pm – 7pm
Walk-ins only
Primary doses (and boosters if at risk) for children aged 5 to 11:
Monday to Friday, 3pm – 7pm
Saturdays, 8am – 7pm
Via bookingor walk-in
Hornsey Central Vaccination Clinic also offers polio vaccines for ages 1-9.
More Information (Covid, Polio vaccines and Childhood immunisations):
More information can be found on the Islington Council website – Coronavirus COVID 19 | Islington Council
For information about Covid, vaccines and support services in other languages, the North Central London Integrated Care System website – (nclhealthandcare.org.uk) COVID-19, the flu, and your health – North Central London CCG
Polio Booster Vaccine at Hornsey Central Vaccination Centre and Clinic K (University Hospital London) – Polio vaccination clinics – North Central London Integrated Care System (nclhealthandcare.org.uk)