Call out for Volunteer Marshals – Islington Vaccination Programme

06/07/2021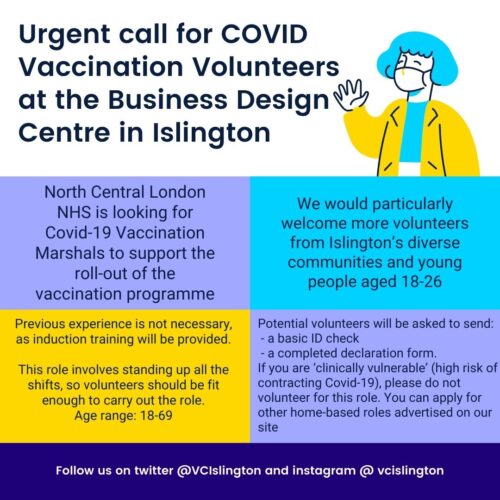 The Business Design Centre is been operating as a mass vaccination site for Islington residents for the last 4 months.
Following the opening of Covid vaccination invitations to all adults over 18, the programme is now on a final sprint to vaccinate as many adults as possible by 19 July. This includes giving a first dose to as many young people as possible, while also bringing forward second doses for the over 40s from 12 to 8 weeks. We are therefore putting another call out for volunteer marshals to support the vaccination programme in Islington.
We would particularly welcome more volunteers from Islington's diverse communities and young people aged 18-26. Training and support will be provided and volunteers will be offered the vaccine at the start of their volunteering journey. More information and how to apply here
Volunteers can also access accredited health champion training that is being provided by Islington and Camden Public Health Good Conversations in Challenging Times and supports people to have conversations with family, friends and community members about the virus, testing, and vaccines. The training is based upon the Making Every Contact Count and is part of the COVID-19 Health Champion Scheme. Book this training directly at https://www.islingtonmecc.org.uk/courses
Please note: If you are 'clinically vulnerable' (high risk of contracting Covid-19), please do not volunteer for this role, but do please apply for other volunteering opportunities advertised on Voluntary Action Islington's online database.
We would be grateful if you would disseminate this information as widely as possible across your networks and partnerships.