VAI & Islington Council – Community Conversations
Community Conversations is a co-production between Voluntary Action Islington, Public Health and Islington Council. Given the challenges presented by the Covid-19 variants, we would like to create an action plan with the wider VCS that enables us to reach and support more local residents in their Covid-19 vaccination journey. See below for the list of meetings taken place in 2022 so far, complete with full video recording, minutes and resources:
The Community Conversation with VAI, Islington Council and Public Health Islington was held on the 28 April 2022. Here is a round-up of this month's meeting for anyone who couldn't make it. Included is the recording of the meeting and the slide presentation from Jonathan O'Sullivan.
Public Health Briefing – Jonathan O'Sullivan, Director of Public Health Islington
Covid-19 Vaccinations support work – Voluntary, Community and Faith Sector Update
Outbreak Control Board Presentation here.
Recording of the meeting on YouTube here.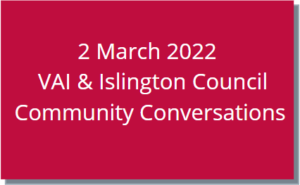 VAI & Islington Council Community Conversation had its third meeting of the year on 2 March 2022. The meeting was well attended and below are the minutes, data and video link of the meeting.
Minutes of Meeting Community Conversation 2 March 2022
Powerpoint presentation of Islington Covid Data and living with Covid post lifting of restrictions.
NCL vaccination conversation guide February 2022
Video recording (via YouTube) of Community Conversation 2 March 2022
February's meeting took place on the 8th and consolidated the latest Covid updates and statistics along with a discussion around complex needs and vulnerability in our borough's population. For those who couldn't make it, see resources below:
Making Every Adult Matter – Approach
Notes – Community Conversation 9.2.22
The meeting with Public Health Islington secured funding for VCSE organisations to consult with young people around health and Covid-19. If you would like to view the event recording of the 25th January Community Conversation, you can access it here. See also for meeting notes and slides shared from the event below:
Community Conversations 25 January 22 Meeting Notes
Healthwatch – Winter Wellness Event – Slides
Vaccine conversations training
Best protection from Covid-19 – Leaflet
Public Health Islington Covid19 update 25 January 2022
Community Vaccine Champions Programme – 25 January 2022